Designing a website for your Brattleboro, VT businesses is crucial for your business's growth because having a website is one the most fundamental aspect of your business. Your website is the first contact between your company and your customers on the internet. Your website's design, navigation, content, and functionality are all vital in making an excellent experience for your visitors. With this, it is essential to have a strong web presence for your business.
According to Google Trends, interest in web design in the US is slowly growing. That's because people and businesses now understand the benefits of web design and development.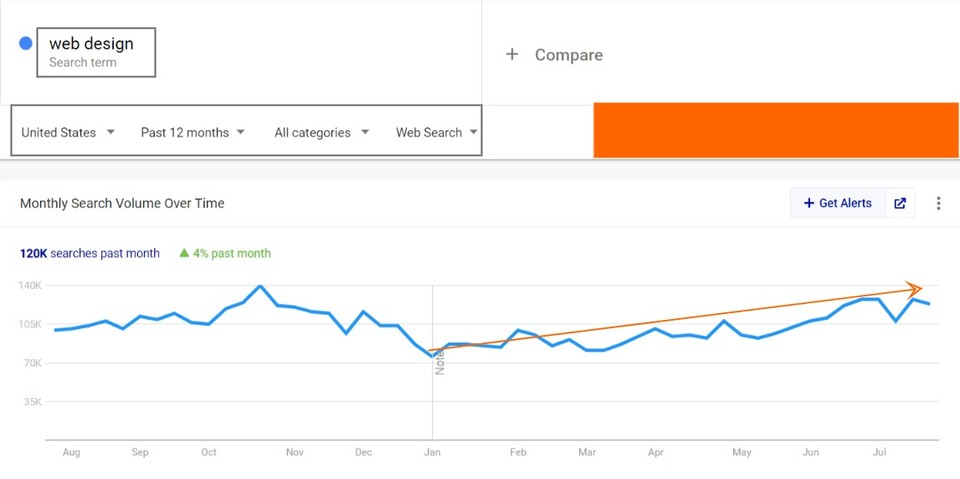 Creating a website for your Brattleboro, VT business is just the tip of the iceberg: you also need to ensure that it ranks high on search engines like Google and Bing. Your website search rankings will determine how well your business grows and sells over time without relying on expensive paid ads.
Do you need a professional Brattleboro web designer to boost your online presence?
Here's what our customer had to say about our web design services:
I have been working with Nate for almost 2 years now and it has been a great experience. They definitely are the best web design company in Vermont. Their work is always clean and on time and they go above and beyond for their clients. I highly recommend going with Group6!

Mikayla Lansing
A Professional Web Design Brattleboro, VT Company
If you have a business, there is nothing more important than having a solid online presence. With a website, you can reach your customers no matter where they are.
Web design is not just about creating a good-looking website. It is about taking care of all aspects of your digital marketing strategy, including search engine optimization, customer experience, conversion rate optimization, and reputation management.
Contracting a professional web design company will help strengthen your online presence and make it more visible.
If you are looking for a reliable Brattleboro VT web design and SEO company, you have come to the right place. Our Vermont-based web design company has been designing websites and optimizing them to rank on search engines since 2011.
Below are some of our web design projects:
Want the best web designer to create and design your website?
Get in touch with us for a custom quote for your business without breaking your bank.
Benefits of Web design and SEO for Brattleboro Companies
Website Development Brattleboro, VT
Web design is an essential part of any business. It provides an attractive look and tells visitors what your business does. Brattleboro companies cannot afford to ignore web design and SEO.
Below are reasons why every Brattleboro business needs a website:
Increase your businesses visibility
The benefits of web design for your business are numerous. Websites increase visibility by getting you found on search engines like Google, Yahoo, Bing, and more.
There are 5 billion internet users, many of whom are your target audience looking for services and products in Brattleboro, VT.
With the help of a Brattleboro web design company, you can get your business on the internet and make it much easier for your customers to find you.
Having a website is a requirement for most industries. It is an advantage over your competitors who don't have one since the internet provides many benefits and opportunities for businesses. With a website, your company will get a more significant market share by being accessible to a broader audience than if it was just through word-of-mouth or traditional advertising.
Want to talk with an experienced Brattleboro web design company for web design services?
Contact us for custom web design.
Web development also allows you to provide better customer service with online forms, knowledge bases, and chatbots that can answer questions quickly and efficiently for your customer and prospects so you can focus on other aspects of your business.
Using AI and marketing automation, you can provide customer service to your customers on your website without lifting a finger.
With the help of these technologies, your business can provide individualized and personalized customer service to your customers without hassle. Moreover, a website will help you understand your visitor's needs and wants to offer the best user experience to them.
Websites also improve the brand recognition of your business.
Websites have become one of the most vital components of marketing and branding, which is crucial for any business to succeed.
A website is a digital representation of your company. A well-designed website will entice visitors to explore your site and create a good impression in their minds about your company.
Get qualified leads and sales on autopilot.
Websites are essential for leads and sales on autopilot. They are the central point of contact for potential customers who want to learn more about your company.
It doesn't matter if you are a small business or a large corporation in Brattleboro; you need a website to get new customers.
To grow your Brattleboro business, you need a professional Brattleboro, VT web designer who understands digital marketing, not just website development and design.
Group6 Interactive is a Vermont-based digital marketing company specializing in custom web development, graphic design, and search engine optimization for small businesses in Rutland, Burlington, Brattleboro, and other parts of Vermont.
Get in touch with the best Brattleboro, VT web design and SEO company to build your online presence.
Search Engine Optimization Brattleboro, VT
SEO is a powerful way to attract more visitors to your site by increasing its rankings on search engine result pages. SEO helps Brattleboro companies improve their online visibility by getting their content seen on search engine results pages (SERPS).
Here are a couple of reasons why search engine optimization is vital in growing your Brattleboro website:
SEO indexes your website, making it easier for people and search engines to find it.
Search engine bots' goal is to crawl and index every possible page on your site, making it easier for people to find what they're searching on search engines.
The more access crawlers have to visit pages on your site, the better your chance of indexing your contents in search engine results pages (SERPs).
It's important to know that your website won't get organic search traffic from search engines if your website isn't indexed. In this case, you need a reputable Brattleboro SEO company. Our web design packages include optimizing your website for search engines. Contact us now to discuss your needs.
With SEO, the first page of search engine results could be yours.
Search engine optimization is a process that helps websites rank higher in search results. SEO can get your website on the first page of Google to generate qualified traffic for your target keyword.
Ranking on Google isn't straightforward because the algorithm is complex and dynamic. However, a Brattleboro SEO company can make it easy to rank your website on search engines.
You will receive more traffic from the internet.
For Brattleboro business owners, Seo can help your company's website become more visible on search engine result pages, leading to higher search rankings, increased conversion rates, and more traffic. Your website won't be able to make sales or grow without traffic; that's why SEO is essential for your business.
You can focus on other aspects of your business by delegating your SEO task to a professional Brattleboro search engine optimization company. At the same time, your site ranks on Google's search engine result pages.
Do you need more organic traffic from Google?
Get in touch with the best Brattleboro SEO company today.
Why hire Group6 Interactive SEO and Web Design Company?
We will design an easy-to-use website for you.
We will design your website to provide information about the company's products, services, and expertise clearly and concisely. Let Group6 Interactive design your website to stand out from the competition. 
We will develop a custom theme for your website.
We are unique because we develop a custom theme to brand your digital company to make your website fast and lightweight. Some WordPress premade templates/themes are heavy, affecting your website's speed and performance. A slow website will generate less traffic, leads, and sales.
Site security is critical for your business.
You have nothing to worry about regarding securing your Brattleboro, VT website from web attackers. Your prospects will always turn off if your website isn't secure. Also, insecure websites barely rank on Google. Hiring our Vermont-based web design agency will ensure your website is trustworthy, secured, and reliable.
A good user experience is vital for a company's success. Creating great UX for all users can be difficult, but it is worth the time and effort. A good user experience will help you turn visitors into raving and paying customers. We are an experienced web development company when it comes to providing users with a welcoming experience on your website.
Search engine optimization
Of course, you know the importance of SEO in digital marketing. SEO is a type of digital marketing that makes websites rank on search engines. Most websites' goals are brand awareness, lead generation, qualified traffic, more sales, or high conversion. Leveraging SEO can help your company achieve its business goals. As an SEO-oriented design company, Grou6 Interactive will increase the visibility of your website on search engines.
Making your website responsive is a great way to make your visitor's experience positive. Responsive websites are essential because they adapt to various screen devices such as smartphones, tablets, and desktop computers. Make your site responsive on mobile and desktop devices to attract more visitors to your website and turn them into leads and customers. Don't worry about a responsive website. We'll do it for you.
Everyone wants to get help the need arises. We will be here for you whenever you need help from us. We offer support when you need it. Do you need a reliable Brattleboro website designer to build your online presence?
FAQs
Should You Hire a Brattleboro, VT Website Design Company?
Yes, you need to hire a reliable Brattleboro website design company to stand out in your industry. With a well-designed website, potential clients and customers will have a good experience with your company's website.
How Much Does Web Design and SEO Services Cost in Brattleboro?
The average cost for website design and SEO services in Brattleboro, VT, ranges from $600 to $10,000, depending on business needs and goals. The price varies depending on the type of service you are looking for and the business you are handling. Contact us for a custom web design and SEO service for your business.
Conclusion: Top Brattleboro VT Web Design and SEO Company
Web design and SEO are essential for any Brattleboro, VT business that want to rank higher on search engine results pages.
Without an SEO-optimized website, your business will barely generate organic traffic, so your company needs to invest in SEO and web design.
Let's develop your website and make it visible on Google search engine result pages.
Get in touch with the best Brattleboro, VT web design company today to discuss your business needs.
About Group6 Interactive Vermont Web Design Company
Group6 Interactive is a web design company in Vermont that specializes in web development and design for startup companies and small business owners in Vermont.
Do you want to build an online presence for your business? It starts with creating a website because it's crucial in building your brand identity and recognition.
We are responsible for web development and design for VT-based businesses. Our web design agency is also responsible for many other things such as graphic design, web development, web hosting, logo design, search engine optimization (SEO), E-commerce development, online marketing, reputation management, and other aspects of digital marketing.
We mainly offer web design services to US Startups in Rutland, Vermont. However, we work remotely to serve all other companies and small businesses in Brattleboro, VT, and the different parts of the USA.
Our location: 135 N Main St, STE 8, Rutland
Latitude/Longitude: 43.626072,-72.974991
Phone: (802) 342-4656
Or email us: [email protected]
If you're looking for a web design service provider in Brattleboro, VT, then we are here to serve all your needs!
We use the latest industry standards to ensure your site looks good and performs well.
Get in touch to discuss your website development needs.
More for you: